I just feel so much frustration for the moms and Dads who are trying to push a stroller through the snow. You know they must be cursing under their breath and the wheels get caught in a snowbank.. and that snow is again just around the corner for us Canadians. Today I see parents trying to adjust a plastic cover over a stroller while its pouring out. Lets face it, sometimes life gets busy, and if you are like us who dont drive you have to face the elements, even when they are being ultimatly discusting. My 9 month old son is breastfeed, and doesnt use a bottle so even if there are days we can leave our older children with someone, mr. "Turnip" must come along. But I smile to know that even on a day like today where it was so windy, rainy and ..well..gross..he was so snug and warm under my coat in my podaegi.
So what can one babywearer do to face the elements with baby? Its so simple, and I want to share some of the options.
There are coats out there made for babywearing. They are well made, beautiful, and can be used from pregnancy and beyond.
http://www.suseskinder.com/
http://www.pslingnewyork.com/
http://www.birdiesroom.com/Products/DIDYMOS-Jacket__CL-DI-BWJ.aspx
... these are some of the many company's that offer babywearing jackets.
If you are a crafty woman, or man, or know someone who is handy with a sewing machine, there are some wonderful
DIY babywearing jackets
you can make. Plus, this way is also quite cheap if you search second hand stores for your jacket/poncho you would be using. This is what we did using this tute
http://www.sedlmeiers.net/photos/Babywearing/BabywearingCoat/instructions.html
Then there is the
new sew fleece poncho
... now I think anyone who is able to get their hands on some fleece and sisscors can do this!
http://magiccityslingers.wordpress.com/2009/10/16/no-sew-babywearing-fleece-poncho-with-fringe-revised/
This is something I think we will be trying out this season. If not for the winter soon approaching, perhaps for spring!
But, if you think it cant get any easier, it can!!!
I mean, you can go to a thrift shop, and purchase a car
digan or sweater for like 2 bucks, one that is a few sizes too big for you, and you and your baby can fit just wonderfully under there!
I went to a thrift store and purchased a mohair wool sweater a few months ago, for two dollars. It was an xlarge. This has been keeping my son and I beyond warm over these fall days.


For the winter months, a larger jacket can do just the same... we purchased a heavy downfilled jacket, for 10 dollars at a second hand store, and my second born and I happily used it through the most blistery days happily warm underneath.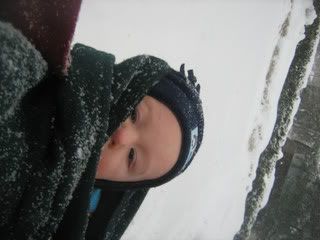 But if you reallly want to spoil yourself in what I believe is the most gorgeous way to carry a baby in the winter, go for it and purchase an Amauti. http://www.amautibaby.com/ is one I know of. They do cost quite a bit of money, but they are well worth the money!! Absolutly gorgeous! An Amauti is definatly on my wish list, even if I have to purchase one, long after my babywearing days are over.